"The most important discovery in half a century."
— Science Magazine
This "Molecule 520" Changes Everything
The last time we saw a breakthrough like this, investors made up to 70,000% gains (but they had to get in early)...
Dear Reader,
George Johnson, 46, has been an alcoholic all his life.
Most of us know someone like George.
His drinking destroyed his career, broke up his family, and almost killed him.
He missed his daughter's high school graduation because he was passed out from drinking.
He tried everything to quit — and several times he did stop drinking, but not for long.
And even when he wasn't drinking, he lived in constant fear of slipping and taking a drink.
Life was a constant struggle to stay sober.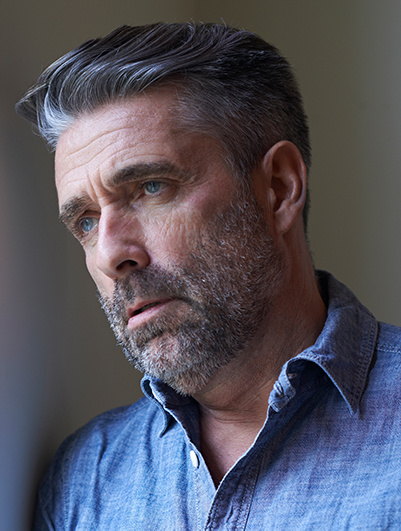 Then George heard about a clinical trial being run at an Ivy League university that changed his life.
The researchers said they were studying a breakthrough treatment that wasn't just about "managing" alcoholism but eliminating it.
A treatment that could turn an alcoholic into a nonalcoholic.
One minute, the person craves alcohol. The next minute, he no longer drinks.
Naturally, George was skeptical, but he figured he had nothing to lose.
And after just two sessions with this breakthrough treatment...
He'd lost all desire to drink alcohol.
Any fear of falling off the wagon was gone.
In short, George was an alcoholic before the treatment. Now he's not.
This is a true story based on a rigorous scientific study conducted at one of the most prestigious and respected medical laboratories in the world.
And George Johnson's story is not unique but one of many like it.
You see, this groundbreaking treatment is being used as we speak to treat not just alcoholism but many incurable chronic diseases.
And it can not only turn an alcoholic into a nonalcoholic, but it can also turn a depressed person into someone who isn't depressed.
Or turn an opioid addict into a nonaddict.
It can help give a diabetic a normal blood sugar level.
"This is going to save millions of lives. Why wouldn't I want to be invested?"
— Kevin O'Leary, Shark Tank
Or even enable an Alzheimer's patient to remember again.
I know it sounds incredible. But this is not some far-off fantasy...
This treatment actually exists... right now.
And it's already transforming people's lives.
A Massive Breakthrough
This treatment is based on what's being called the "Molecule 520," and it is revolutionizing medicine as we know it.
For example, the establishment doesn't believe alcoholism can be cured.
Once an alcoholic, always an alcoholic, it says.
But the standard ways of treating alcoholism just don't work very well.
Between 40%–60% of people who've been treated for addiction or alcoholism relapse within a year, according to The Journal of the American Medical Association.
And alcoholism must be managed for life.
That's why this new treatment is so revolutionary: It doesn't manage alcoholism... It eliminates it.
With as little as one treatment!
And study after study is proving it works on many other chronic diseases, too.
Studies underway at places like Harvard, Johns Hopkins, and Stanford are showing this new treatment is effective against other deadly chronic diseases that affect millions...
Like depression, diabetes, PTSD, opioid addiction, anorexia, and Alzheimer's disease.
This Molecule 520 Is Changing People's Lives
Practically Overnight
Take Elise Farmer, a 55-year-old woman who'd been severely depressed for decades.
On a good day, she was able to get out of bed and make a meal for herself.
But most days, she stayed in bed alone with the curtains drawn and had her food delivered.
More than once, she thought about ending her life.
Then a friend told her about a clinical trial for a brand-new treatment for depression that needed volunteers.
Like George, Elise had tried everything to cure her depression: expensive, long-term therapy and antidepressants with lots of terrible side effects.
Nothing worked very well or for very long. And that's common.
Antidepressants coupled with expensive, long-term therapy work only about 40%–60% of the time.
So naturally, she was skeptical about this new "cure," too.
But after one session... her depression lifted.
And in the following days, she reported feeling better and better every day.
Now, for the first time in decades, Elise feels good. She's healthy, happy, and excited about life.
Bottom line...
Elise was deeply depressed. Now her depression has disappeared. Completely.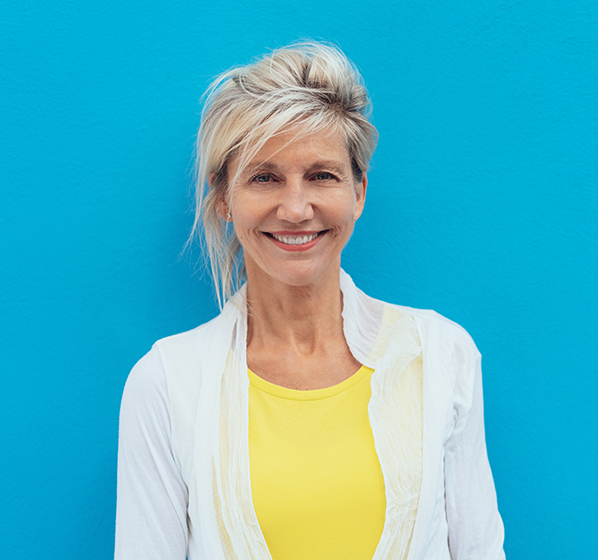 Both Elise and George got virtually identical outcomes...
Complete relief with lasting results after only one or two treatments using this Molecule 520.
And they aren't the only ones.
Studies involving tens of thousands of people with incurable chronic diseases have used this same new treatment to deliver similar results.
The FDA Opens the Floodgates
by Awarding "Breakthrough Status"
Because the Molecule 520 has shown incredible promise to transform millions of people's lives for the better...
It's got the Food and Drug Administration's backing.
The FDA — the ultimate judge of safety and effectiveness for medical treatments — has awarded this new medicine "breakthrough status."
The FDA only assigns breakthrough status to treatments in which clinical evidence "demonstrates the drug [or therapy] may have substantial improvement on at least one clinically significant endpoint over available therapy."
In short, breakthrough status means cutting red tape for fast commercial development and getting to market in a fraction of the time it normally takes.
And this FDA backing has thrown the floodgates wide open.
"A growing number of companies are conducting clinical trials of [this same cure] for everything from depression to post-traumatic stress disorder with the blessing of the FDA." — Bloomberg
Both Big Pharma and tiny startups are spending billions on research and development, with several drugs already in Stage 2 trials...
Big money is pouring in from venture capitalists and Silicon Valley titans...
And the first wave of IPOs is about to hit the market...
Offering anyone who gets on board now the chance for our next round of triple- and quadruple-digit profits.
If fact, some say the little-known company that just filed for its IPO could be the next "unicorn"... a startup worth $1 billion.
Why Haven't You Heard About This Until Now?
If you're like 99% of investors, this is probably the first time you've heard of the Molecule 520.
Few people are familiar with it — even among medical professionals.
But not for long. Because the Molecule 520 is throwing out the standard playbook for treating many chronic diseases.
It's a revolutionary new development curing diseases that have long been thought to be incurable.
Remarkably, this Molecule 520 is 100% natural, organic, and plant-based, so it's free of the negative side effects that plague people with most medications for these diseases.
(Now, I know what you might be thinking, but let me be clear upfront that I'm NOT talking about cannabis.)
And best yet, this breakthrough treatment involves:
No synthetic drugs with side effects.
No invasive surgery.
No long, expensive therapy of any kind.
No restrictions on your lifestyle.
No outrageous costs.
It literally makes the disease disappear, leaving the patient whole and healthy, often for the first time in years.
Addicts become nonaddicts.
Depressed people no longer have depression.
And PTSD sufferers no longer have PTSD.
This breakthrough treatment simply "removes" the disease.
Sound too good to be true?
I thought so at first, too. But this Molecule 520 is the real deal...
I've read thousands of pages of research, and studies around the world are showing equally promising results for people suffering from autoimmune diseases, epilepsy, chronic Lyme disease, Alzheimer's disease, and many others.
One prominent scientist has called this new breakthrough:
"The most important discovery in half a century."
— Science Magazine
What is this Molecule 520 exactly?
And how does it work?
In the next few minutes, I'll give you the answers...
And show you why the world's most successful investors — like Peter Thiel and Kevin O'Leary — are pouring tens of millions into this.
Best yet, I'll show you how you can follow them and get in on the ground floor of a medical breakthrough that will change medicine as we know it...
And make early investors very rich.
Three Decades of Triple-Digit Gains
Hi, I'm Jeff Siegel and I've been a professional investor for 30 years.
I'm also a bestselling author, television commentator, and editor of the highly successful investment publication Green Chip Stocks.
And my specialty is investing in "world-changing breakthroughs" long before they become household words...
Giving my readers opportunities to make a fortune before most investors even know what's happening.
Uncovering game-changing advances before the crowd catches on is my secret for helping others make life-changing amounts of money.
I spend a lot of time on the road visiting companies, doing site visits, and talking directly to management.
That's how I became one of the first to call the boom in alternative energy, which helped make my readers millions of dollars.
Like when I recommended SunPower Corporation (NASDAQ: SPWR) — before it shot up FIVE TIMES its value...
That turned every $5,000 into $24,800!
And when I told my readers to buy First Solar (NASDAQ: FSLR), they made out like bandits when it exploded with an 850% gain...
That turned every $5,000 into $47,500!
But we were just getting warmed up.
I told folks to get into Vestas Wind Systems (OTCMKTS: VWDRY) at $75 a share — and after that, it went parabolic...
All the way up to $666 a share!
Five thousand dollars in that stock would have turned into $44,400!
I was also one of the first to see the cannabis revolution coming before it was on most investors' radars.
By getting on board early, I showed readers how to rack up incredible gains like:
3,016% on Canopy Growth Corporations.
1,185% on OrganiGram Holdings Inc.
A small $5,000 grubstake in each of these cannabis stocks would have turned your investment into a whopping $268,750.
A $10,000 investment in each of these stocks would have given you a $537,500 windfall.
And $20,000 in each... Well, that would have delivered a life-changing $1,075,000 fortune.
As you can see, we have a killer record of triple- and quadruple-digit gains.
And we do it over and over again.
That's why it's so important you keep watching this presentation.
Because today, I see the chance to do it again with this Molecule 520.
The companies I am going to tell you about could dwarf those previous winners and create our next round of millionaires.
And I'm not the only one who sees the enormous potential here...
The Big-Money Players Are
Racing to Claim Their Share Now
Kevin O'Leary of Shark Tank fame has invested $6 million (and counting) into the Molecule 520.
PayPal co-founder and legendary venture capitalist Peter Thiel is in, too.
He turned an early $500,000 investment in Facebook into $1 billion and was an early investor in LinkedIn, SpaceX, and Airbnb to name a few of his other big winners.
Now he is backing a company in this space with an undisclosed amount, though it's common knowledge he never "goes small when he can go big."
So is Bruce Linton, founder of Canopy Growth. Bruce made 70,000% on cannabis when his company's stock price went from $0.10 to $70 a share.
He's betting big money this Molecule 520 will be much, much bigger than cannabis.
Ultimately by as much as 10–20 times bigger.
In fact, a lot of elite cannabis investors are pouring money into this new opportunity.
They see this as a repeat of what happened in the early days of cannabis stocks...
The chance for a massive payoff for folks who get in early.
Expect Four-Figure Gains From This Game-Changer
Big Pharma and biotech companies are pouring hundreds of billions of dollars into developing drugs based on the Molecule 520.
Pharmaceutical giant Johnson & Johnson already has one Molecule 520-based treatment approved and on the market. It's a nasal spray aimed at helping people who suffer from depression.
The FDA has already fast-tracked two other drugs in development.
There are dozens of drugs already in clinical trials, and some are in the final Stage 3 trials, which are the last step before applying for FDA approval.
And all the companies and startups I've talked to are working with the FDA to get their efforts fast-tracked, too.
That's why you must make your move now...
Because biotech companies on the cusp of new discoveries can go parabolic.
Look what happened to Medivation (NASDAQ: MDVN) when it announced a new treatment for prostate cancer.
Questcor Pharmaceuticals (NASDAQ: QCOR) developed a drug that relieves the symptoms of MS and its stock went through the roof.
And when Illumina (NASDAQ: ILMN) made strides with gene editing, it made early investors rich.
A one-time $500 investment in MDVN turned into over $55,000.
And the Molecule 520 stocks I'm recommending today could absolutely match those stellar gains.
Here's Why Legendary Investors Are Going All In...
This breakthrough could be the single most efficient way to treat the most stubborn and costly diseases plaguing society.
Right now, scientists around the world are studying the Molecule 520's impact on chronic diseases that afflict millions, including:
Just look at the money now spent to treat these diseases every year:
$635 billion on chronic pain.
$78 billion on PTSD.
$150 billion on depression.
$39 billion on smoking cessation.
$35 billion on treatment for alcoholism.
When you include the other diseases this Molecule 520 can treat, there's more than $1.7 TRILLION being spent.
If this new breakthrough captures just 1% of this market (and I think it will capture far more than that), we're looking at billions in profits.
That's why the world's biggest investors are going all in... NOW. Before this hits the mainstream financial media.
As Kevin O'Leary put it, "This could save lives, cure depression, help alcoholism, get people off opioids — why wouldn't I want to be invested?"
He's making his move now because heavyweight investors know...
This Is the Next Big Thing in Medicine
To grasp the tremendous size of this opportunity, think about game-changing medical breakthroughs like penicillin, vaccines, anesthesia, and antibiotics.
Those major advances transformed our world... saved many hundreds of millions of lives... and eliminated untold suffering.
Scientists estimate vaccines alone have prevented 103 million cases of deadly and crippling childhood polio, smallpox, measles, flu, and others.
And before antibiotics, an infection was often a death sentence. Nothing could stop it.
Experts say penicillin alone saved 80 million–200 million lives... and counting!
And that's not even counting all the lives other antibiotics have saved.
Now, this one breakthrough could do the same for the:
1 billion people who smoke.
264 million people who suffer from depression.
35 million who suffer from PTSD.
38 million who suffer from alcoholism.
15 million who suffer from opioid addiction.
44 million who suffer from Alzheimer's disease.
30 million who suffer from anorexia.
And 70 million who suffer from arthritis.
It's Already Saving the Lives of Our Soldiers
Post-traumatic stress disorder, known as PTSD, affects 12% of our veterans.
The impact on a soldier and his family is horrific.
And the pain and shame can lead to a "wounded warrior" taking his own life.
Long-term therapy and antidepressive medications are the usual treatments for PTSD.
But when military veteran and PTSD sufferer Bill Higgins tried this new breakthrough cure, here's what he reported:
When I returned from Iraq working in IED demolition and combat, the war had changed me. The VA was ill-equipped to help me transition and deal with my PTSD.

I was heavily medicated. This [new medicine] saved me. My life was renewed. I now have peace and purpose, and I can't wait to share this opportunity with the world.
And study after study from the most prestigious universities and institutions around the world like:
Harvard University
Johns Hopkins University, Baltimore
University of Arizona
Stanford University
NHS Foundation Trust, London
Department of Veteran's Affairs, Center for PTSD
Yale University
UNC, Chapel Hill Medical Center
University of Minnesota
University of Zurich, Switzerland
University College London
School of Science, University of Buenos Aires, Argentina
Royal London Hospital
New York University, Bellevue Hospital
And dozens more all confirm this medicine's potential and effectiveness.
All of them are coming to the same conclusion...
This radical new treatment could be a godsend for millions of chronically ill people suffering from otherwise incurable diseases.
After decades of one failure after another, this Molecule 520 is the breakthrough doctors have dreamed of...
It has the power to treat 10–15 different intractable diseases...
Chasing the illness or addiction from a person's body, almost like a "medical exorcism."
Often in a single dose.
What Is This Molecule 520?
Perhaps the most amazing thing about this Molecule 520 is how simple it is.
Most "medicine" these days is a complex compound of heavy-duty and unpronounceable chemical ingredients.
This new medicine is made up of just one molecule.
But a molecule so powerful it is about to change conventional medicine as we know it.
It's plant-based and naturally occurring in our environment.
So it has almost zero side effects, unlike most medications.
Here's a picture of the molecule: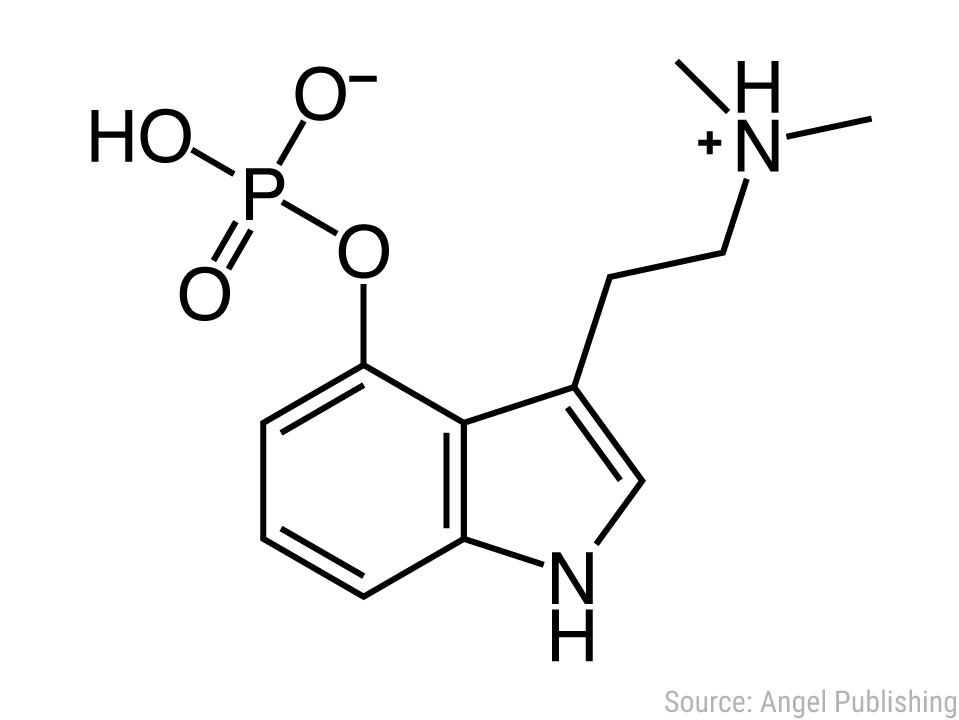 To the average person, this might look like any other molecule.
But to the trained eye, it's very, very different.
And its difference and "magic" lie in how it treats disease.
Discovering the Holy Grail of Medicine
You see, throughout history, medicine has attacked disease with the knife or poison.
Doctors either cut out the disease hoping that our organs will heal and get back to doing their jobs.
Or they poison the disease the way chemotherapy poisons cancer cells and then hope the body grows back healthy tissue.
But the thing is all of these approaches are invasive and harsh, causing damage that must later be healed.
Plus, these treatments have side effects that can be worse than the disease itself.
If you've ever had a friend or loved one go through chemotherapy for example, you know it ravages the body and creates a whole new set of problems to deal with.
And just to add insult to injury, these standard treatments...
Are expensive.
Sometimes take years to work.
And are only about 30% effective on average.
The Molecule 520 Is Shockingly Different
It isn't invasive and doesn't kill the disease with poison.
Only one or two sessions are required for a 60%–100% success rate.
The results are often permanent.
With none of the debilitating side effects.
Instead, the Molecule 520 works by enabling the body's most powerful organ to do the healing...
The mind.
Harnessing the mind has been medicine's holy grail for centuries.
And now it's a reality.
I'm not going to try to explain all the science behind how this Molecule 520 works here. In a minute, I'll tell you how to get a new report I've written with all the details.
But to understand the basics, let's take a look at this picture...
On the left is a visualization of the brain of a depressed or addicted person.
On the right is a visualization of the brain of a person cured by the "Molecule 520."
Information flows in our brains along circuits, or information highways, that you see in these pictures.
Some highways carry a steady stream of traffic. Others are rarely used.
In a depressed or addicted brain — just to use two examples — information flows along just a few circuits, as you see in the image on the left.
These few circuits are used over and over again, locking the person's thinking into hard, rigid patterns that repeat.
And every time a circuit is used, the groove becomes deeper and harder to break away from.
Soon, the person can't break out of this well-worn thinking and behavior.
Alcoholism, for example, is fueled by a constant stream of pleasurable memories of drinking alcohol.
Current treatments don't target these powerful memories, allowing them to recycle endlessly and cause constant cravings to drink...
Which causes relapses to occur over and over again.
The same is true for smokers who crave a cigarette.
Or the PTSD sufferer who obsesses over traumatic memories.
And the depressed person who thinks the same bad thoughts over and over and over again.
People are trapped and can't break free of the patterns caused by these well-worn brain circuits.
And that's where the Molecule 520 comes in.
A Revolutionary Treatment
With Blockbuster Results
The Molecule 520 breaks this cycle and helps the brain use formerly unused or underused brain circuits.
It also creates new connections between brain circuits.
A study at the University College London found this molecule could "dramatically rewrite" these memories.
The Molecule 520 permanently restructures the way the brain works...
From this...
To this...
While a depressed person in traditional treatment may have to take antidepressants and undergo expensive therapy for years, even a lifetime...
Just to maintain where they are but with no progress...
The Molecule 520 delivers a "snowballing effect" that only gets bigger over time.
That's because the molecule doesn't simply mask symptoms as current treatments do.
It cuts through to the disease itself and erases it.
This Is the Opportunity of a Lifetime
This breakthrough is an absolute game-changer, and that's why things are moving at light speed.
Dozens of elite institutions worldwide have funding to research the Molecule 520's power to treat a host of deadly chronic diseases — from diabetes to Alzheimer's disease and beyond.
Over 60 research studies have already been published in peer-reviewed scientific journals.
Legendary investors like Kevin O'Leary and Peter Thiel are already pouring in millions.
So is venture capitalist Tim Ferriss, who was an early investor in Uber, Twitter, and Alibaba. He says:
I view the next five years as a golden window. A chance to use small amounts of cash to have a billions-of-dollars impact on thousands of lives. There simply aren't that many alternatives.
The FDA knows that, too. It recognizes current treatments for these chronic, incurable diseases don't work well... and is anxious to get something new to market fast that does.
That's why it has given the Molecule 520 the coveted breakthrough status I told you about.
With the FDA's green light to companies that want to manufacture and distribute medicines made from the Molecule 520...
Big Pharma and small biotech companies alike are racing ahead.
The first wave of IPOs are about to come to market. One of the most promising startups just filed for its IPO. Some say it will be the next $1 billion "unicorn" when it goes public.
And I expect a handful of other companies to file for IPOs this year, too.
Giving us one of the most exciting investment opportunities I've seen in the last decade. There are fortunes to be made here — if you make your move now..
Ten Times Bigger Than Cannabis
As I showed you earlier, I was one of the earliest investors in cannabis.
And by being at the forefront of the cannabis stock revolution, I showed my readers gains of 3,015%... 1,185%... and 1,174% in cannabis stocks.
But I can already see that the Molecule 520 will be much, much bigger than this.
Giving us an opportunity about 10 times bigger.
This is precisely why many "cannabis millionaires," like Bruce Linton of Canopy Growth Corporation, are piling into this new market now.
And investors who missed the cannabis mania — like Kevin O'Leary — aren't going to make that mistake again.
Thanks to the FDA's embracing of this Molecule 520 breakthrough... with many variations of this molecular medicine already approved by the FDA...
These investors are jumping in full-bore to get in early when the biggest gains are made.
How much money could you make?
Of course, I can't predict the future with 100% accuracy. No one can.
But remember, people who put $10,000 into Canopy Growth Corporation saw their money explode by 3,015%.
Every $10,000 invested into Canopy jumped by $301,500...
From a modest $10,000 investment.
Readers who put $10,000 into OrganiGram Holdings saw their money soar 1,185%.
From $10,000 to $118,500...
And folks who followed my advice to invest in Aphria saw their money blossom 1,174%.
Every $10,000 became a stunning $117,400.
That's an incredible $537,400 in total. From just three stocks.
We made a small fortune on cannabis early on, but people who were in the very first wave of investors made up to 70,000% gains.
On just one stock!
When an unheard-of company called Canopy Growth went from $0.10 a share to $70 a share, every $10,000 invested in this one stock catapulted to...
An earth-shattering $7 million!
But based on all my research, experience, and insights from my extensive network of industry insiders and big-money investors, I think the profits from the Molecule 520 revolution will make these gains look like pocket change.
But You Have to Get in Now
to Make the Big Money
Now, I know this is probably the first time you are hearing about this. And I want to give you the full story, but I can't fit everything I have to share on this opportunity into this short presentation.
That's why I've written two detailed reports I want to give you free today.
My first report is called "The Magic Molecule: The Most Important Discovery in Half a Century."
In this report, I'll tell you everything you need to know about the Molecule 520...
What it is. How it works. Why it works so well.
I'll share my extensive research and the rigorous studies confirming just how miraculous this breakthrough is.
I'll also give you the full story on the regulatory scene and the investment landscape.
And after reading it, I think you'll be chomping at the bit to stake your claim early.
That's why my second report, called "Three Magic Molecule Picks for Quadruple-Digit Gains," will give you my top three stocks to buy now to get on board today.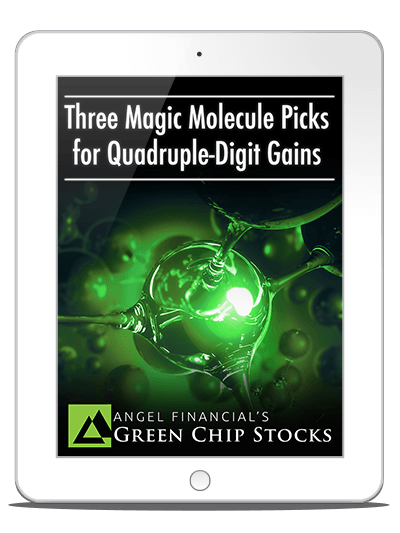 There's nothing quite like the thrill of getting in on the ground floor of a stock and riding it straight up to the penthouse.
And even better, with Molecule 520 investments, you also know you're investing in something that is truly going to help make the world a better place.
Most investors will never experience this thrill.
But you can if you get in now on this medical revolution.
The FDA has given breakthrough status to a growing number of companies to conduct clinical trials of Molecule 520 treatments for everything from depression to PTSD to Alzheimer's.
So there are incredible opportunities for you to profit early from this breakthrough cure.
This report contains all the details on my top-three recommended stocks, but let me tell you a little about them now...
Three Companies That Will Change the World and
Make Early Investors a Fortune
If you want to claim your share of the mega-profits coming from the "Molecule 520," this company is the place to start.
It's the first publicly listed neuropharmaceutical company developing Molecule 520 medicines.
And it has a massive first-mover advantage.
In pre-IPO funding, this powerhouse raised $24 million and won the backing of high-profile investors who regularly write seven-figure checks.
On the day it went public, the stock was very active with over 14 million shares traded, and the price shot up 27% in one day.
Going public has opened up huge opportunities to attract institutional capital and ramp up its pipeline of clinical trials for treating a wide range of illnesses.
The company is starting with medicines to cure opioid addiction, which afflicts 11 million Americans, costs $1.7 billion to treat by traditional means, and costs the economy $500 billion overall.
But current drugs are just "substitution" treatments, meaning they simply substitute one addiction for another. They never cure the opioid addiction itself. And their failure rate is up to 90%.
This company's Molecule 520-based medicine has an early success rate of 50%... so far.
This is a very big deal, and the FDA has noticed.
Instead of substituting one addiction for another...
This medicine cures the addiction by disrupting the addiction mechanism at work inside the person. In short, the opioid addict becomes a nonaddict with this Molecule 520 treatment.
And what's most exciting is that physicians out in the field are already asking the FDA for permission to use this medicine in their practice — and not just for opioid addiction.
This company has already acquired the "exclusive license" to eight ongoing clinical trials involving treatments for different illnesses.
Look, this company is pulling out of the station... now.
And I recommend you get on board to capture the biggest possible rewards.
I'll give you my full analysis in your report, along with...
Two More Picks for Potential 1,000%-Plus Gains
My second pick is a company that has already launched a complete production, packaging, sales, and distribution program for approximately 300 applications of the Molecule 520.
Though it's still a small, young firm by most standards, over the last two years, its stock performance has blown past the S&P 500 by almost 800%!
It already has the essential infrastructure in place to get a "running start" as Molecule 520 drugs come to market.
That includes selling it at established retail operations across the country.
For example, it will be able to sell all of its products to the National Union of Health Care Workers' 1.2 million members.
It's as close as you can get to an established "green chip" in this new industry.
So you get lower risk from an established business coupled with the unbounded upside potential of this virgin market.
Best yet, it's dirt cheap right now so you don't have to invest much to grab an early stake.
You'll get its name and everything you need to know in your free report "Three Magic Molecule Picks for Quadruple-Digit Gains."
Finally, you'll get the name of my third pick, the only legitimate pick-and-shovel play in the space.
The company is actually an agricultural technology firm, but it's created a one-of-a-kind technology that produces the Molecule 520 cheaper, faster, and in higher quantities than its competitors.
This innovation cuts labor costs by 235%, increases profitability by 25%, and will be key to helping keep up with the exploding demand for the Molecule 520.
It's a game-changer of epic proportions, and the company is now gearing up to be the production technology of choice for what could soon be hundreds of Molecule 520 producers.
Any one of these three companies could easily climb triple, quadruple, and even quintuple digits in short order.
In the process, they'll be filling gargantuan global needs... giving hope and help to hundreds of millions of people around the world... and making you big money.
So I hope you take me up on this invitation and get positioned to grab the biggest gains by acting NOW on my top three Molecule 520 picks.
For a limited time, I'll give you instant free access to both reports when you become a member of my invitation-only research service Green Chip Stocks.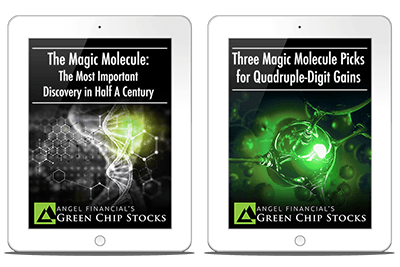 Even More Chances to Get Even More Rich.
I Want to Be Clear.
While the three stocks in your special report will change the world...
And make fast movers fabulously wealthy...
This is not a one-time deal.
We're going to have multiple shots at getting rich over the next two years as this breakthrough continues to unfold and grow.
Especially with the flurry of IPOs I expect to come to market in the next six–12 months.
As a Green Chip Stocks member, I'll keep you in front of cutting-edge developments.
You'll have advance intelligence that will help keep you ahead of breaking news on new drug developments and new companies about to IPO.
You'll benefit from my personal network of industry insiders. The top people making key decisions. I talk to them and visit them constantly.
Then I tell you what they're thinking and what they're (probably) going to do.
That way, when a new company goes public, you're already fully informed about its strengths, weaknesses, and management team...
So you can jump on opportunities immediately with full confidence.
But Green Chip Stocks isn't just about helping you make a fortune from this Molecule 520 breakthrough...
I Scour Every Corner of the Market...
For what I call "virgin investing" opportunities. Opportunities that few, if anyone, is looking at.
That's why my members have also seen opportunities like these:
117% from Khiron Life Sciences
332% from Aleafia Health Inc.
545% from Innovative Industrial Properties
170% from Hannon Armstrong
The world's greatest fortunes are built from the ground floor up.
If you wait until a company or innovation is already in the mainstream news, you've left a LOT of money on the table.
Helping you "get a jump" on the next big innovations and rock-star companies at the very beginning of their rise is what Green Chip Stocks is all about.
That why I offer my members something you won't find anywhere else...
Insider Events for Members Only
This past January, I invited members to a private meeting with the top executives of a new startup I have reason to think has huge potential.
It's one of the companies I'm recommending in my report.
The event was fully booked almost immediately.
At the meeting, the executives presented their latest confidential research findings on their flagship "Molecule 520" medicine to Green Chip Stocks members and some of the major-league investors I know personally.
It was a small, very intimate gathering that gave members the chance to hear directly from the top people of a company they might want to invest in.
These are the kinds of hush-hush meetings you only read or hear whispered about but are never in the room for.
Now, I won't divulge the content of this meeting here, but fortunately, they allowed me to film the proceedings.
I'm editing the footage into a finished product now and will send it to you once you become a Green Chip Stock member.
And as the Molecule 520 industry develops, I'll be holding ultra-private meetings like this one regularly for our members. And you'll be on the invitee list if you act now.
If you want to make the most money with "fast companies" like this one, you have to get in at the beginning... Start on the ground floor and ride the elevator up.
Membership in Green Chip Stocks gives you this kind of exclusive, early-in access through my recommendations and members-only events.
As a member, you'll also get:
Weekly updates: At least once a week I'll be in touch with new investment opportunities that can land us double-, triple-, and even quadruple-digit gains, plus updates on our current investments including breaking news, insider rumors, insights from my extensive network, and more.
Unlimited 24/7 access to our members-only website: This is your go-to place for urgent alerts, special reports, videos, and our full portfolio.
Constant support: As long as you're a member of this community, you can contact me with any questions or issues you may have. I can't answer personal investment questions, of course, but my staff and I are always here to help you.
Invitations to private research trips: As a member, you'll be invited to join me on private research trips and private dinners with analysts and entrepreneurs. This is a rare opportunity to ask questions directly to the insiders who make the markets move.
Here's something else you don't see every day...
My Official Ironclad Guarantee to You
You know that the information inside your report "The Magic Molecule: The Most Important Discovery in Half a Century"...
Is worth a fortune.
And the ongoing support and stock recommendations you'll get with Green Chip Stocks are priceless.
But instead of the normal $199 price...
You get 50% off.
That means you'll pay just $99 for a full year.
And after you try it out for six months...
If you're not totally happy with what you get...
If you're not thrilled with your gains...
You can call to cancel, and I'll give you back every single cent — no questions asked.
You can even keep "The Magic Molecule: The Most Important Discovery in Half a Century" and "Three Magic Molecule Picks for Quadruple-Digit Gains"...
As my gift to you for just trying us out.
I can't believe I'm doing this!
All of my research on what looks to be the most profitable opportunity I've ever come across...
A full 50% off the normal price...
And a money-back promise.
That's my guarantee to you.
Great Fortunes Are Built by Meeting a Great Need
Billions of people suffer — and often die — from diseases like depression, alcoholism, opioid addiction, PTSD, anorexia, Alzheimer's, and more.
Three-hundred million people around the world suffer from depression alone!
All because our current treatments for these diseases are woefully inadequate.
This is why the FDA has fast-tracked this medicine by granting it breakthrough status.
The medical profession has been stuck for years working with "tools" that don't work.
This all-natural, single-molecule breakthrough cure does work. Study after study proves it. And the words of patients testify to it.
What does it add up to?
Fortunes piled on top of fortunes.
Again, Kevin O'Leary puts it best: "This could save [millions of] lives, cure depression, help alcoholism, get people off opioids — why wouldn't I want to be invested?"
Are You Ready to Get Started?
I hope so.
That's why I created Green Chip Stocks — for people just like you.
People who want to make a fortune and don't mind helping out the world in a big way at the same time.
Remember, the last time we saw something ALMOST this big, early investors made:
1,174%, turning $10,000 into $117,400.
1,179%, turning $10,000 into $117,900.
1,185%, turning $10,000 into $118,500.
3,015%, turning $10,000 into $301,500.
And even as much as 70,000%...
Which turned $10,000 into $7 million!
With one stock.
But now is the time to act...
You are the only one who decides what happens next.
It's totally up to you.
It's your turn to get in front of a fast-moving announcement.
It's your turn to live the life you deserve.
It's your turn to take action.
As soon as you join Green Chip Stocks, I'll email you your copies of "The Magic Molecule: The Most Important Discovery in Half a Century" and "Three Magic Molecule Picks for Quadruple-Digit Gains."
They are yours to keep forever.
Just click the "Subscribe Now" button below...
And you'll be taken to a secure order form where you can review all the details before anything is final.
As soon as you get your reports, I suggest you tear into them immediately.
I look forward to hearing your story about hitting it big because you got in early on this massive breakthrough...
I hope to see you at our invitation-only retreats.
And I look forward to seeing you take action and living the life you know you deserve.
Sincerely,
Jeff Siegel
Investing Director, Green Chip Stocks